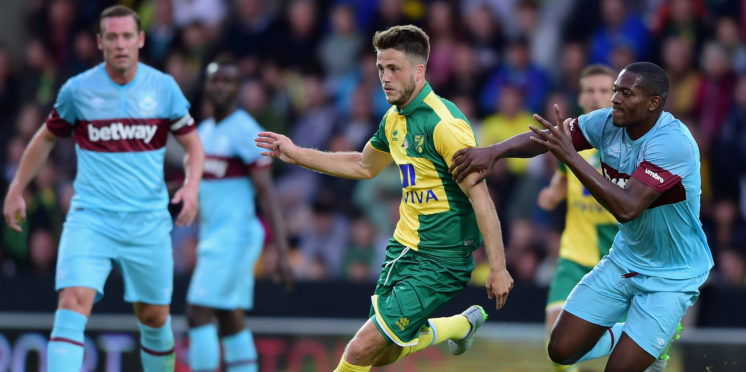 Plenty of Norwich fans send Ricky van Wolfswinkel messages of support
As reported by Football Swiss, former Norwich City striker Ricky van Wolfswinkel is set to undergo treatment on a brain aneurysm.
This is terrifying.

Ricky van Wolfswinkel suffered a head knock in the game last week vs. LASK and after tests, a brain aneurysm unrelated to the knock he received, was discovered.

He will be out of action for several months as he undergoes treatment.

VIDEO IN ENGLISH ? https://t.co/Vh7iBpQDxT

— ??????????????? (@FootballSwissEN) August 15, 2019
The Dutchman, who left Norwich to join FC Basel in 2016, only found out that he had the aneurysm after he went for checks after he suffered a head injury whilst playing in a game for the Swiss side.
As expected, plenty of Norwich fans were quick to send their thoughts and best wishes to the 30-year-old. Here are just a few of the heartfelt messages.
get well soon big man @RvWolfswinkel9 ??

— tom shaw (@Tommy__Shaw) August 15, 2019
Get well soon Ricky ??

— Jo Chilvers (@JoChilvers23) August 15, 2019
Get well soon RVW ??

— Paul Loveday (@OnthePaulCity) August 15, 2019
Get well soon ??

— Jill Dann (@jill_dann) August 15, 2019
Get well soon Ricky ??

— Matt searle (@Matty83Ncfc) August 15, 2019
Read Norwich Comment
It goes without saying that the thoughts of everyone at Read Norwich, and at the entire Read Network, are with Ricky van Wolfswinkel at this difficult time.
Hopefully the fact that the issue has been identified early means that it can be properly treated and therefore, we hope that the Dutchman can be back to 100% in the near future.
---