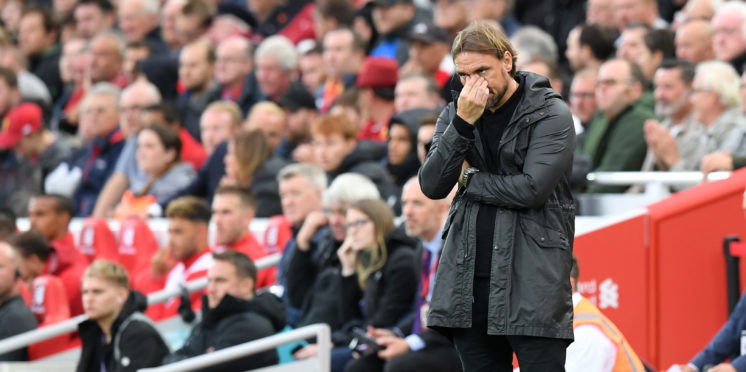 Fans react to Tony Evans' comments that Norwich rolled over at Anfield
In his column for the Independent, writer Tony Evans was very critical of West Ham for the manner of their defeat at home to Manchester City, but he also mentioned Norwich in a disparaging light following their 4-1 loss to Liverpool.
Here's what he had to say about the Canaries:
Norwich City rolled over on Friday night at Anfield, allowing Liverpool to cruise unchallenged to a four-goal lead by half time. Perhaps there are some excuses for Norwich. They might have suffered stage fright on their return to the Premier League and they will almost certainly be involved in the relegation battle. Daniel Farke and his team may consider it worth saving their energies for their fellow basement dwellers.
Norwich fans on social media were not too happy with Evans' comments and were all too quick to tell him why he was wrong, whilst fans of other clubs, including Liverpool, were also quick to defend Farke's side.
Impressed by Norwich they were decent

— stephen (@stephen8822) August 12, 2019
Tony, what would you rather the approach from Norwich was? They had a real go and should have scored at least one first half. Against 70% of league teams if they play like that they win comfortably.

— James Carroll (@Jcarroll48) August 12, 2019
Don't think Norwich could have done much more against the European champions, having just come up from the championship and spent under £3m in the summer market. Very critical of a team that actually gave it a go

— Louis Smith (@LouiSmith94) August 12, 2019
Think that is harsh on Norwich. The game was very open which often means whichever side has most quality in both boxes will prevail. They definitely didn't roll over or gift the game to Liverpool at all – the went at them and didn't give up even at 4-0.

— Stephen Drennan (@babuyagu) August 12, 2019
Thought Norwich stuck to their guns and should have scored more than one, they will pick points up against a fair few of the sides in the bottom half of the table. At least they had a go and created, more positives to take from the game than parking the bus would have given them

— John (@JohnnyO_L) August 12, 2019
Read Norwich Verdict
The comment about Norwich suffering "stage fright" is really strange. If anything, the opposite was probably true in that the Canaries were a bit overconfident at times, which led to them being punished by the European champions. I also disagree with the players "saving their energies" too. Norwich had players going down with cramp around the hour mark (which is a bit of a worry fitness-wise) due to the effort they put it.
Accusing the Canaries of some naive play at times would be fair, to suggest that they got overwhelmed by the occasion, or that they had more focus on other games coming up, is just nonsensical.
---