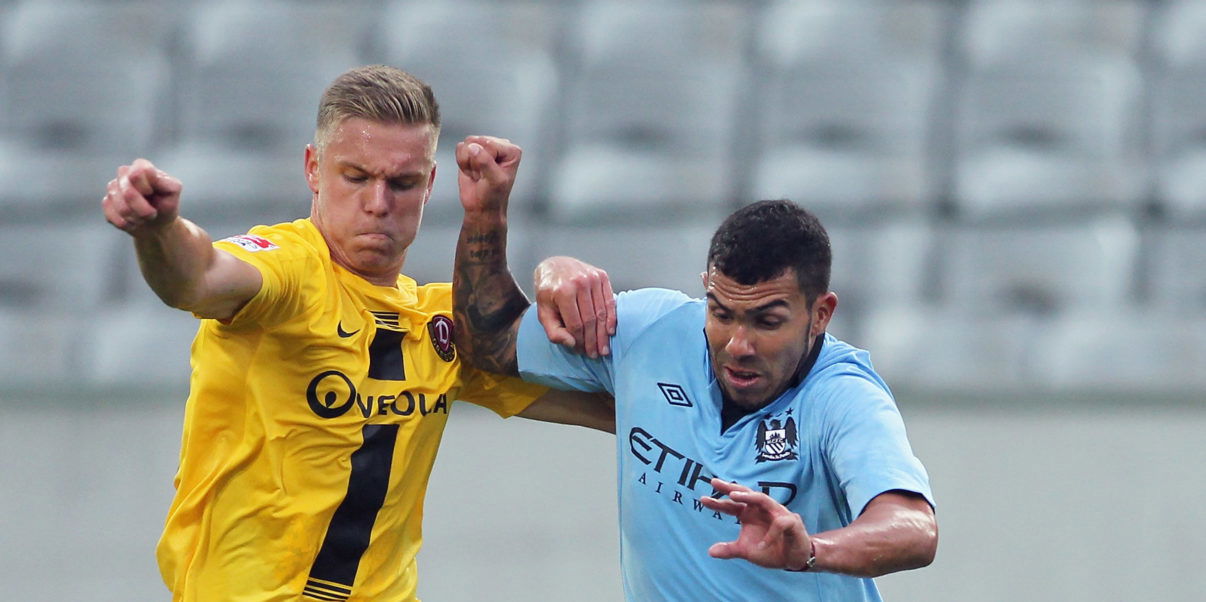 Jonny Walsh Q&A: Getting to know Marcel Franke
Norwich City have announced the signing German central defender Marcel Franke from 2. Bundesliga side Greuther Fürth.
Franke becomes Norwich's seventh signing of the summer, joining Angus Gunn, Marley Watkins, Harrison Reed, Mario Vrancic, James Husband and Christoph Zimmermann.
Franke has signed a three-year deal with the club, joining for an undisclosed fee.
The German played 31 league games for Greuther last season as they finished eighth in their league. He stands at 6ft' 4in.
I took the time to ask 2. Bundesliga expert Jonny Walsh some questions about Franke…
Firstly, what is your initial reaction to the news? 
"It's a good signing. Franke's been pretty well thought of ever since his last season with Hallescher FC and he's perhaps now getting the acclaim that he deserves. It's been no secret that a move has been in his mind, so this is a culmination of that."
If you had to assign a value to him, what would it be? 
"I would place him between €2-3m, probably to the higher end of that. He has an extra year on his contract in comparison to Toni Leistner, but SpVgg Greuther Fürth aren't on the same negotiating level as 1. FC Union Berlin."
How did he perform last season?
"Franke was one of the keys in what was a very successful season for the Shamrocks. He only missed a handful of games and very rarely made any mistakes. That was, largely, as part of a back three but Franke can also play as part of a back four."
Do you think he can make the step up to the Championship?
"Given the record of German defenders making the move from 2. Bundesliga, or 3. Liga in Michael Hefele's case, then I see no reason why he shouldn't be able to do well. Their reading of the game and technical ability have shown that adaptation can be instant. Whether or not that is the case with Franke remains to be seen."
What qualities does he bring to Norwich? 
"Franke never made the most amount of tackles last season, but that was backed up by very few players getting round him or missed tackles. Franke is strong in the air, too, and very competent on the ball. Should Farke look to play out from the back, I'm sure he'll be able to cope with that."
What areas of his game need improvement? 
"Perhaps his tackling will be tested more this season, given that he will play with just the one partner instead of with two. Franke has really solid potential and room to improve, which I'm sure he will over time. If he can match his level from last year as the season progresses, he'll prove himself."
Is he on a similar level to reported Norwich target Toni Leistner? 
"Yes. Franke was touted as Leistner's potential replacement should he have left for Norwich. The Union man is slightly older and slightly more physical. Given that Franke is younger, he would have moulded into the Leistner spot pretty well – in that sense, if Norwich haven't got Leistner, then this is a pretty good alternative."
Finally, do you think Norwich have made a good signing?
"Yes, I do. For the reasons cited above, should Franke bed in and get accustomed to life in England then the platform is there for him to recreate his form of last season on a bigger stage."
I'd like to thank Jonny for taking the time to answer my questions!
---